Tessa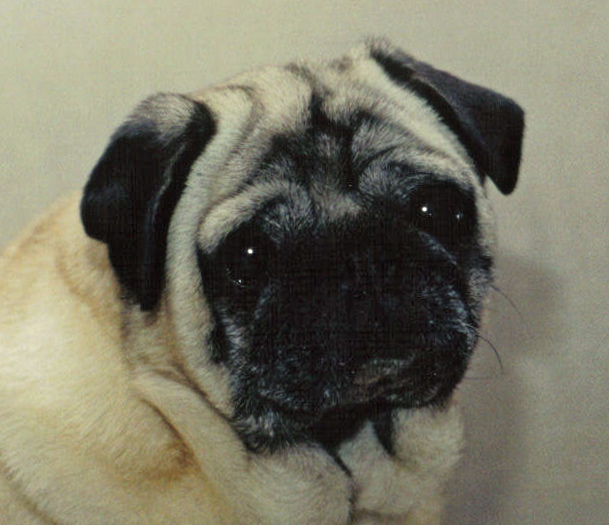 Tessa came to live with us on July 31, 1998. She had lived with three other families in her young life, and we agreed to foster her temporarily while Seattle Pug Rescue sought out yet another place for her to stay. We decided pretty quickly we wanted that fourth place to be with us, and that our home would be hers for the rest of her life.
Tessa Pug was born on December 10, 1990. We were told she had been a show dog in her early years. After that, she gained and then lost a great deal of weight, which left her with thick, cuddly rolls of loose skin around her shoulders. I thought it made her look a little like a stuffed animal, and in fact "Gundy," after the Gund teddy bear, was one of our first nicknames for her. She also had amazingly soft fur. People always remarked on how soft her fur was.
Unlike her adoptive sister, Tessa didn't care about marking territory, barking at birds, or people-watching at the park. She had no interest in toys, and ignored most other dogs. Tessa loved three things: her people, sleeping, and food.
She especially liked hanging out on the sofa. If we were moving around or working outside, Tessa would often stand on or near the sofa and bark until someone came to sit with her. She wasn't a dog we could take hiking, but she was perfect for "Law & Order" marathons.
Once on the sofa, Tessa would move from one parent to the other, stretching out next to me or curling up on Karen's lap. If Karen wasn't sitting the right way, Tessa would stare at her until she arranged herself properly. Then "Princess Sweetums" would climb into Mommy's lap. Lately, she had begun to resent Karen's personal computer: "There's only one laptop in this house, and it's me!"
But one thing would dislodge Tessa from Mommy's lap: the chance to eat. Any time one of us would go to the kitchen, or even move in the direction of the kitchen, Tessa would propel herself out of bed or off the sofa and take off after us. "Can't risk even the possibility of missing the chance for food!" At pug picnics or when we had guests over, she worked the crowd for anyone who might be persuaded to feed her. She wouldn't bark or jump, but just sit and stare with her big soulful eyes. "Please, kind sir ... could you spare a piece of cheese for a starving pug?"
Tessa knew when it was dinner time, and would usually start reminding me about it 45 minutes or so in advance. She had begun to do that for breakfast time, too. Having a pug climb onto your chest at 5:15 a.m. is a unforgettable way to wake up. She hated to have to wait until "the appointed hour." If we came home late and missed feeding her precisely on time, she made sure we knew she was not pleased.
She was a star at the annual Seattle Pug Rescue party. People would comment on her cute face, pet her soft fur ... even take pictures. There are probably photo albums all over Seattle (and beyond) with images of little Tessa in them.
Tessa had a bladder stone a few years ago, a set of really unfortunate teeth, and like her sister started going deaf in her later years. But on the whole, Tessa always enjoyed excellent health — a testimony to her good breeding. But even she couldn't escape the breathing problems that afflict so many pugs. After a short illness, and in the arms of her loving parents, she peacefully joined Angel at the Rainbow Bridge on June 6, 2006.
Now that you're at the Bridge, Tessa, you can breathe easily, enjoy all the meat and cheese you could ever want, and forget all about baths and nail trims. Curl up next to your sister like you used to and enjoy a little nap in the sun. We'll muddle though here and be along to join you soon.
I'm sure that when we get there, you'll be waiting to herd us through the door, just like you did every evening when we came home from work.
---
To help pugs who have been victims of abuse or neglect, or who just need loving new homes, please contact Seattle Pug Rescue, PugHearts (pug rescue of Houston) or a pug-rescue group in your area. Please, never buy puppies from a pet store.