Polly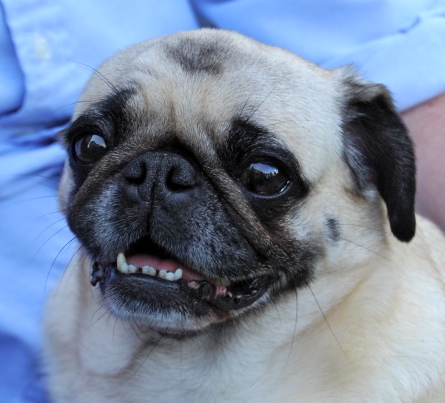 Polly
~2000 — Aug. 15, 2014
(Adopted from Seattle Pug Rescue)
Polly was rescued from an Amish puppy mill (warning: disturbing footage of mistreated dogs, including pugs) in Pennsylvania, where she was kept in a small cage and used to produce litter after litter of puppies. A Pennsylvania pug-rescue organization obtained Polly from the Amish.
The news video at the link above describes how dogs who have spent their lives in small cages often have trouble walking when they are rescued, and that was the case with Polly. She required surgery on her hind legs for luxating patellas (knee caps that tend to slip out of place). Unfortunately, the Pennsylvania organization couldn't afford the surgery, so Polly was flown to Seattle, where Dr. Keith Norton and Dr. Melissa Norton performed the necessary operations.
Polly recovered under the care of Seattle Pug Rescue, through whom we adopted her. After her knee surgeries, Polly got around just fine, and could run in the back yard or go on long walks with her adoptive sisters Gretel and CeeCee. It was fun watching her have new experiences and discover new things like snow, sunny back yards, or how to burrow under blankets to sleep in the cozy darkness. Over time, she bonded extremely strongly to my wife.
In the summer of 2013, Polly was having difficulty walking and we assumed it was related to the arthritis in her knees, which was a natural result of her previous knee issues and surgeries. But when she stopped walking completely, we feared it was a severe orthopedic, nerve or neurologic problem. A trip to the vet found something completely unexpected: she wasn't walking because she had virtually no energy. Her PCV (packed cell volume, a measure of red blood cells) was just 9%—a normal count is more like 40-45%. She had severe anemia, to the point that the vet instructed us to take her directly to a specialty/emergency hospital (Sugar Land Veterinary Specialists) where she immediately received a blood transfusion and multiple medications. The ultimate diagnosis was immune mediated hemolytic anemia (IMHA), a condition in which the body's immune system attacks its own red blood cells.
Following this diagnosis, her primary therapy was prednisone, which is a steroid. The prednisone suppressed her malfunctioning immune system enough to allow her red blood cell count to recover to normal levels. It also triggered a classic side effect: an absolutely ravenous appetite. At the height of it, we were feeding her large meals of our homemade pug food (supplemented with spinach, sardines, scrambled eggs, Greek yogurt and other foods) four times a day, and she wasn't gaining any weight. She had a great deal of anxiety, which seemed to burn off all those extra calories.
Eventually, we were able to wean her off the prednisone, which must be done very gradually. Every three weeks, we were able to slowly cut down her dose as long as her red blood cell count remained in the normal range, until she was completely off it. As a result of her bout with IMHA, we made the decision in consultation with our vet to discontinue any and all vaccinations, including rabies. We only came to this decision because she now had a permanently compromised immune system and vaccinations could have a deadly effect on her.
Not long after we finished the process of weaning her off the prednisone, she began having breathing difficulties. It started with what we thought might be seasonal allergies. Through a months-long process of trial-and-error, Dr. Doug Hendrix at Sugar Land Pet Hospital working with Polly's vet at SLVS ultimately diagnosed her with a collapsed trachea and collapsed main stem bronchi. We opted to have SLVS perform surgery to implant a tracheal stent, which allowed Polly several more months of life. But collapsed tracheas are a permanently degenerative condition and the best outcome of treatment is to slow down the natural progression of the problem. Her breathing issues became insurmountable, and on Aug. 15, 2014, she passed away in our arms.
---
To help pugs who have been victims of abuse or neglect, or who just need loving new homes, please contact Seattle Pug Rescue, PugHearts (pug rescue of Houston) or a pug-rescue group in your area. Please, never buy puppies from a pet store.