Gretel
(aka "Glory's Moonstruck Feng Shoi, R.O.M.")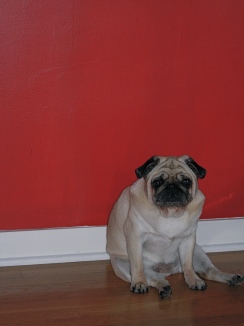 Gretel first came to us as a loaner pug. Her owners, Cathy Moore and Kim Taylor of Luna Pugs, who were very active in Seattle Pug Rescue and who facilitated our adoption of Polly, thought Polly would adapt to her new surroundings more easily if she had another pug to keep her company. So Gretel, who was the foundation dog for Luna Pugs' line of champions, lived with us for several weeks as Polly got acclimated.
Gretel returned to her home when we adopted Oliver. After Oliver's sadly brief time with us had ended, Cathy and Kim asked whether we would like to adopt Gretel permanently. We were very happy to do so, and Gretel has been with us ever since.
Gretel is the embodiment of multum in parvo, with lots of energy, personality, and opinions packed into her little frame. She is quite social, even by pug standards, and loves being out in public and meeting people (she especially likes little children). She also loves eating and sleeping, both of which she does with great determination.
Gretel has had bladder-stone problems, and also is allergic to corn and corn products. Consequently, she eats food we make for her ourselves. Her corn allergy kept her from being a show dog: she was twice afflicted with allergic reations just before she was to be shown. However, she has an American Kennel Club Register of Merit because all four of her children have achieved AKC champion status. Gretel is the proud mother of:
BIS BISS CH Luna's Loop De Lou ("Louie")
CH Luna's Latte' Da ("Latté")
CH Luna Dune's Macaroon ("Mac")
CH Luna Dune's Eclaire D'Lune ("Claire")
---
To help pugs who have been victims of abuse or neglect, or who just need loving new homes, please contact Seattle Pug Rescue, PugHearts (pug rescue of Houston) or a pug-rescue group in your area. Please, never buy puppies from a pet store.