Angel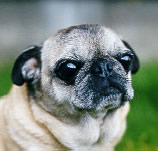 Angel, our "firstborn" adoptive pug, moved in with us on July 7, 1998. We found her through Seattle Pug Rescue. Her previous person died, and the executor of that estate left Angel at the pound with nothing but her name. Fortunately, SPR swooped down and rescued her before she was put to sleep (we were told that "owner surrenders," as Angel was considered to be, are given only 24 hours to find a new home before they're destroyed).
When she moved in with us, Angel was checked by a vet, who estimated her age at between 5 and 7 years old.
Angel was not a well-bred pug, which resulted in some health issues, most notably a collapsed larynx. On February 21, 2003, Angel died — we believe as a result of complications related to her collapsed larynx.
I had a total of five dogs while growing up. But Angel was my (our) first pug. She was intelligent, opinionated, and could be very demanding of attention and affection. We always said that if Angel ever figured out how to use a keyboard, she'd make a killing in the day-trading market.
She was a wonderful dog and we miss her.
Angel, I never used to be big into this whole Rainbow Bridge thing. But I know you're there now. You can walk as fast and as far as you like, and never run out of puddles to wade through. You can hear your name being called, you can get your tummy rubbed, and you can mark your territory as long as your big heart desires. You never have to worry about birds or bicyclists any more. And I promise to wash my own hands from now on.
When you're finished marking your territory, and are lying on a blankie in the sun energetically cleaning your paws, I hope you'll take a moment to think of your mommy and daddy back here.
Because we'll be thinking of you.
---
To help pugs who have been victims of abuse or neglect, or who just need loving new homes, please contact Seattle Pug Rescue, PugHearts (pug rescue of Houston) or a pug-rescue group in your area. Please, never buy puppies from a pet store.