Of Flags and Flag Things
What is This Thing Called Vexillology?
Vexillology (etymology here) is the study of flags, while designing or drawing flags is vexillography. I've been doing both for a very long time, as well as dabbling in the not-unrelated field of heraldry. It's only recently, though, that I've liked any of my designs enough to unleash them on an unsuspecting world.
A few of my designs are here on these page. Others are on the Flags of Cascadia page.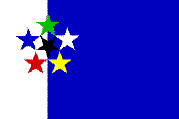 Before I get started, though, I must strongly encourage anyone interested in flags to consider joining Flags of the World, the Web's leading flag-related discussion group. Also check out the incomparable Flags of the World web page, which is fed by the list. These are absolutely essential references, while the list is also a great community of flag scholars and enthusiasts (vexillologists and vexillophiles). I've learned a lot, and had a lot of fun, on the list. (This design above is the official flag of FOTW [you didn't think a flag group wouldn't have a flag, did you?]. List-member Mark Sensen designed it, and FOTW'ers selected it from among several other suggestions; the one at the top of the page, needless to say, was animated by Pascal Gross, official flag animator of andrewrogers.net.)
Check out my personal flag: