Oliver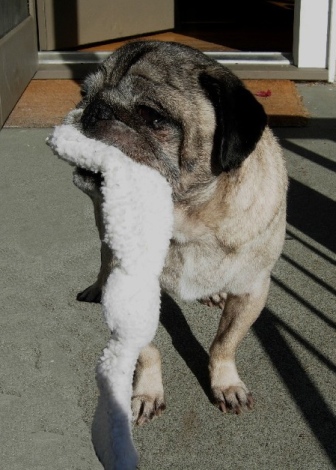 We adopted Oliver from Seattle Pug Rescue toward the end of August 2006. He was about 10 years old, and had had a pretty tough life, including suffering severe neglect from several previous owners. He also had chronic obstructive pulmonary disease (COPD, which we preferred to think of as Cuddly Old Pug Disease), which meant he didn't breathe very well. He'd have to be kept relatively inactive, since running around or long walks could trigger serious breathing problems. He would need a home full of love, warmth, and quality time on the sofa. As Angel and Tessa could have testified, our home fit the bill!
For all his medical problems, Oliver had a wonderful personality: laid-back, relaxed, inquisitive, and adaptable. He loved riding in fast cars, helping repairmen do their jobs, and (as you can see in the photo above) carrying his fleece toy with him at all times.
Unfortunately, Oliver's health problems turned out to be more severe than either we or the Seattle Pug Rescue folks initially realized. He became part of their Helping Hands program and received excellent and very attentive medical care from Dr. Keith Norton and Dr. Melissa Norton of Norton's Ark Veterinary Clinic. After heroically battling COPD, heart problems, pneumonia, and other maladies, Oliver died the day after Thanksgiving 2006, barely three months after we adopted him.
Although we didn't have much time with him, we find comfort in the fact that his last few months were spent with people who loved and cared for him. We think he knew he'd come to a good place at last.
---
To help pugs who have been victims of abuse or neglect, or who just need loving new homes, please contact Seattle Pug Rescue, PugHearts (pug rescue of Houston) or a pug-rescue group in your area. Please, never buy puppies from a pet store.